Love at First Contact
Posted by Leticia, 14 May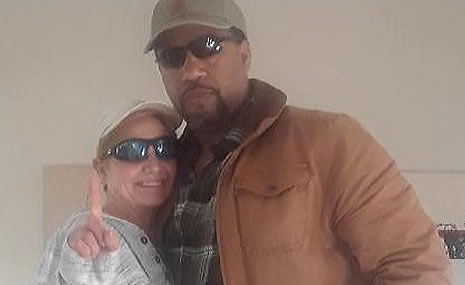 Tracey ventured online "to find a partner." After trying more than one online dating platform, she found her way to us. "It was the one with the most responses," she says of her decision to stick with this site. She indicates she was "hopeful" we could produce results for her, but even she was amazed at how quickly it happened! Two days after posting her profile, she received a "flower" Flirt from Scott.
"I was looking for a woman, not a girl," says Scott of his ideal match. He too was hopeful about Internet dating. On our site Tracey's pictures struck a chord with Scott, so he reached out. Turns out she was exactly his type! After getting his Flirt Tracey perused Scott's profile and liked what she found there. "It showed that he was an intelligent human being," Tracey tells us. Even so, he was only about 75% of what she saw as her type. This wasn't a bull's eye. Fortunately, for Tracey that was enough to go on.
A clue that this could be special came very early on. "Home in bed on a rainy day after he called for the first time," Tracey says she had her first inkling that Scott might be the man for her. He had a similar feeling around the same time. "When Tracey sent some pics, I knew," he declares.
Your perfect partner could be online right now...
What are you looking for?
After some further correspondence and conversation, this couple in the making made the decision to meet in real life. "Scott decided he was taking the train down from Boston on New Year's Day to start the year off right," Tracey recalls. "His first message was Dec 29. He called and said he couldn't wait that long, so he came on the 31st instead."
Scott laughs at this memory. "I couldn't wait so I went down on New Year's Eve!" Tracey received him warmly. "I picked him up at the train station and we went to my house. I was already in love!" Scott felt similar confidence, even at this early juncture in their relationship. "The girl of my dreams" is how he describes her.
Scott's profile didn't lead her astray, says Tracey. "True to his profile" is how she describes him in their first in-person meeting. In Tracey's case, "her eyes, and her smile" were even better than advertised, says Scott. Both singles marveled at the "ease" of their interactions, given how recently they were complete strangers. "I was surprised by how comfortable it was," observes Tracey.
They were both "100% certain" this thing warranted a second meeting, so arrangements were made for another. "I made plans for the following weekend to visit from Boston," Scott informs us. From that point on there was no drama to report, no major obstacles to overcome – "nothing at all," says Tracey. "It was love at first contact. With Scott, it's like nothing I ever imagined." He reciprocates. "She's my girl... I told her I loved her that first night!"
Here's what Tracey would tell anyone still looking for enduring love online. "Go with your heart, not your eyes," she advises. Scott wants people to trust their gut. "If you feel something, explore it," he says.
Who knows? It might even be as easy as "love at first contact."
6 responses to "Love at First Contact"
Leave a reply
You must be logged in to post a comment.