From Online Chat to Happily Ever After: Tania and David's Love Story
Posted by Leticia, 10 Sep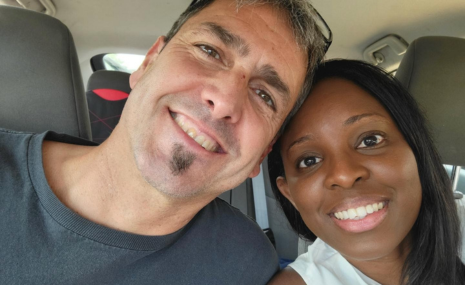 In a world where busy schedules often leave little time for traditional dating, the digital realm of online dating has become a promising avenue for many. For Tania and David, their journey from virtual introductions to a loving marriage is a testament to the power of online connections. "I'm happy, I feel fulfilled", was Tania's words for finding love in David's eyes. Let's dive into their heartwarming story.
The Basics: Love Takes Flight
Find your soulmate on DateWhoYouWant










Tania and David, known as "venus2009" and "Coast49" on our site, discovered each other and embarked on a life-changing journey together. Tania, a busy career woman in a bustling city, turned to online dating due to her hectic schedule. David, having found success with online dating before, was eager to give it another shot. While Tania approached it skeptically, David remained optimistic but patient.
How It All Began: Sparks in the Digital World
Their online dating experiences spanned vastly different durations. Tania had been online for 1 year and 7 months while David was active only 6 months before encountering Tania's profile. David initiated contact with a flirt, drawn to Tania's sweet and genuine profile picture, as well as her claim of being a good communicator. Tania was intrigued by David's cute photos and his love for surfing, a connection to her coastal upbringing.
Meeting Face to Face: The Magical Encounter
After countless daily conversations and video chats, their first in-person meeting took place in the vibrant city of New York. Tania, being an adventurous host, showed David around the city, creating unforgettable memories. Their first impressions were overwhelmingly positive, dispelling any initial awkwardness. "She's cute! She's friendly and sweet", David said while Tania's reaction was "Oh my gosh, this is for real. Wow, he's tall". They both left the date certain of a second one.
Your Relationship Now: Beyond the Profile
As their connection deepened, they discovered qualities in each other that weren't apparent from their profiles. Tania appreciated David's kindness and easygoing nature, while David admired Tania's sense of humor and endearing goofiness. They realized that love often transcends preconceived notions of a "type".
Wisdom from Tania and David
Tania's advice is simple: be open and honest, and prioritize communication, especially in long-distance relationships. David encourages taking chances, even if someone seems far away, as true love can often be found in unexpected places.
A Proposal to Remember:
David's unforgettable proposal occurred on a mountain top overlooking his hometown with a breathtaking ocean view. Down on one knee, he delivered a heartfelt speech and sealed their love with a resounding "yes".
Changing Lives through Love:
For Tania, finding love brought happiness and fulfillment, while David experienced significant life changes, including increased self-confidence, a new job, and the joy of welcoming a baby into their lives. "My life has changed dramatically! I gained self confidence, got a new job, and we have a baby together", David said.
In today's digital age, Tania and David's story reminds us that love knows no boundaries. To all the online daters out there, remember that true love may be just a message away, waiting to unfold in the most unexpected and beautiful ways.
2 responses to "From Online Chat to Happily Ever After: Tania and David's Love Story"
Leave a reply
You must be logged in to post a comment.