The government can't keep them apart
Posted by Leticia, 13 Apr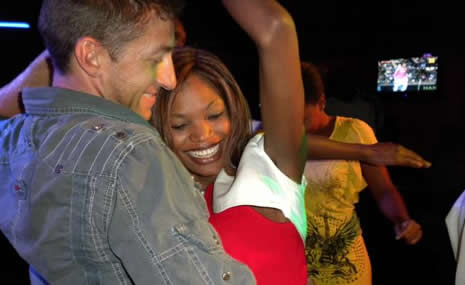 Jeff never had trouble meeting people, given his gregarious nature and his line of work—he's a snowboard instructor, drummer, and D.J. whose handle is "DJake."  But he'd found he was most compatible with black women and he wasn't meeting many of them in his area.  What's more, Jeff was very eager to meet his match and knew that hoping for the occasional chance meeting might keep him waiting for a long time.
"I wanted someone to fill my lonely heart, and yesterday," Jeff says.  So he decided to try our site.  "Within the first month, I was talking to so many ladies that I quit searching to meet new ones," he marvels.  "Several of them are now some of my best friends.  I've been teaching one of the girls' daughters how to do magic tricks!"
Find your soulmate on DateWhoYouWant










Kalama was getting plenty of attention of her own, but she had specific ideas about the kind of man she was looking for.  When she found Jeff's profile, it struck her as a bit long, but fun and genuine.  She liked that Jeff knew what he wanted.  His profile declared he was "Ready for Love."  Their personalities seemed compatible, and so did their relationship goals—both wanted to start a family, sooner rather than later.
There was just one wrinkle to iron out—Jeff was in Ohio and Kalama was in Africa!  Undeterred, they started talking on Skype.  This was enough for Jeff to learn to love Kalama's laugh, her beautiful smile, and her witty sense of humor.
Jeff decided to go to Africa for a visit to see if their connection would work in real life.  The pair met in person for the first time when Jeff got off the plane in Zambia.  "When I finally met her, she was the same person as on Skype, but so beautiful," Jeff recalls.  "Her embrace felt so much warmer than a keyboard!"
The young couple felt a little anxious at first but their nerves settled down as their conversation took off.  Jeff and his sweetheart would dance for hours at a local club, until they were the last people on the dance-floor.  Later that night, their first kiss came in the back of the cab on their way home.
Jeff would spend seven weeks with Kalama's family.  The couple toured the area to see Africa's wildlife in its natural habitat and visit the world-famous Victoria Falls.  Along the way, they fell madly in love.  By the time Jeff headed home, he was a married man.  Yes, it's true—Jeff and Kalama got hitched!
Sadly, difficulties with Kalama's immigration are keeping the couple apart for now.  But Jeff and Kalama are making plans to reunite in Africa.  In fact, they hope to visit impoverished villages in Zambia, offering children entertainment, inspiration and gifts.
"Kalama's smile, heart and love are greater than I ever could have imagined," Jeff says.  Something tells us that no government can keep this couple apart for long.
343 responses to "The government can't keep them apart"
Leave a reply
You must be logged in to post a comment.