He flew in for their first date
Posted by Leticia, 14 Sep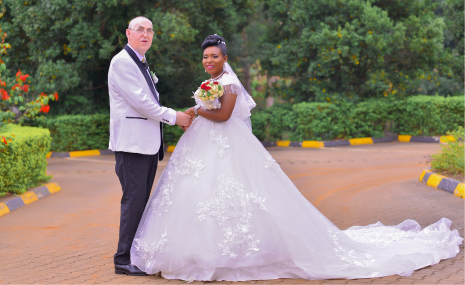 Love, as the saying goes, defies all limits, whether it be age, race, or geographical separation. Joyce and Michael's journey serves as a heartwarming affirmation of this timeless wisdom. Their affection flourished through their connection online, dispelling any doubts they once held about the world of online dating.
The First Spark
Find your soulmate on DateWhoYouWant










Joyce, who went by the username Jorowa, was initially skeptical of finding true love online. "I really wanted a biracial partner from a different culture, but I was skeptical of online dating. I thought most people were only game players, scammers, or gold-diggers," she shares.
Michael was not very optimistic either. He had just gone through a difficult divorce and was seeking companionship rather than a serious relationship. "I had no serious intention of getting a marriage-material woman here," he confesses. But fate had different plans. "Joyce's profile caught my eyes, and I couldn't resist falling in real love. She is brutally honest and kind," he adds.
Joyce, a member of our site for six years, was the one who took the first step. Michael, who had joined just a week earlier, was instantly captivated by her message. "Michael was a complete package," says Joyce. Michael felt the same: "She was too kind, intelligent, and simple. Highly educated but down to earth—a Ph.D. holder!"
Meeting Face to Face
Their chemistry was palpable even though it was forming solely through screens at this stage, and it was only ever going to be a matter of time before they met. Michael made the first move, flying from England to Rwanda, to meet Joyce. "His constant communication and care for me set my heart into a blaze," Joyce recounts.
The first meeting was nothing short of magical. "Our first sight at Kigali International Airport was a magical phenomenon that sealed our union," says Michael. Joyce agrees, "I saw an honest innocent man who should be my husband. He was very tall and handsome. I felt very protected and fully immersed in love."
Love in Bloom
Over time, Joyce and Michael discovered that their connection was even deeper than what their profiles could convey. "My Michael is good at managing time, more organized, and he puts my happiness first," Joyce reveals. Michael adds, "Joyce cares for me like her little baby. Her level of intelligence leads our relationship to only perfection."
The couple faced some obstacles, such as disapproval from Joyce's sister and Michael's mother. Despite this, they remained steadfast in their love, finally getting married in Uganda. "I felt taken to paradise when he went down on his knee to propose to me," Joyce recalls. Michael's feelings were just as strong: "She gave me flowers at the airport, and I felt heaven break open."
Golden Advice
For those seeking love online, Joyce advises, "Scammers prey on vulnerable individuals, and people lie. But if you date with wisdom and caution, you'll one day land on your perfect match, and the rest will be history." Michael's advice is equally compelling: "Go for green flags—someone who's a great communicator, honest about their intentions, and makes you feel your best."
Joyce and Michael's love story serves as a ray of light for those who are still looking for their soulmate in a world full of uncertainties. After all, as they've shown, love can be found in the most unexpected of places.
4 responses to "He flew in for their first date"
Leave a reply
You must be logged in to post a comment.