Love Knows No Boundaries
Posted by Ria, 22 May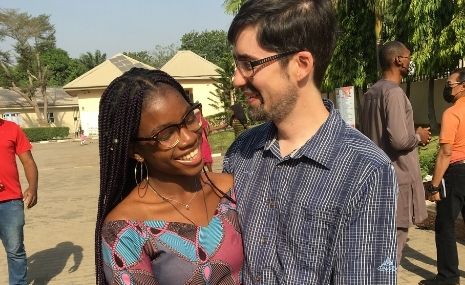 How Did You Meet?
Joy and Ryan show us that love knows no boundaries. Joy is from Nigeria, and Ryan is from the US; still, they proved that if you love someone, distance doesn't matter.
Find your soulmate on DateWhoYouWant










"I first set up my account on the site sometime in March last year, but I forgot about it for a while and came back to it after some months. So I paid for a subscription and became a premium member. I started checking out people's profiles and found Ryan's page in three days. I saw that we had a lot in common, such as we are both Catholic, we were both artists, loved books, and loved the Japanese culture. So I sent him a message, and we got to talking."
"Once we started talking, I saw that we had more in common than I first noticed. We bonded very quickly. Our first video calls, which took place two days after we met, lasted almost two hours. I was surprised at how fast, and deeply we connected. Our second video call was a couple of days later, on a Friday night, and it lasted nearly six hours.
We talked about meeting in person and started preparing for it since I lived in Nigeria, and he lived in the US. He came to Nigeria a day after my birthday in December, and he met my family. Then in January, before he left, he asked me to marry him, and I said yes!"
How Did You Know He Was The One?
"I got many confirmations as to him being the one, but what ranked on top of those things was his love for God. I am a Christian, and I wanted someone who loved God and wasn't ashamed of it. Many of the people I met before were half accepting of the truth. They would choose the part of Christianity that was most convenient for them."
"I knew that I wanted someone who would prefer to do God's will, not just when it was suitable for them, and for me that was Ryan. I wanted someone who loved God wholeheartedly. To know what love truly is or how to love another properly, one must first know God. I knew someone who genuinely loved me would love me as I deserve to be loved."
What Is The Best Thing About Him?
"Ryan makes me laugh a lot, and he's very patient. I can be very temperamental sometimes but he's very patient. Also, he's very accepting of all of my flaws and is always quick to remind me of how much he loved children, and that is very important to me."
33 responses to "Love Knows No Boundaries"
Leave a reply
You must be logged in to post a comment.